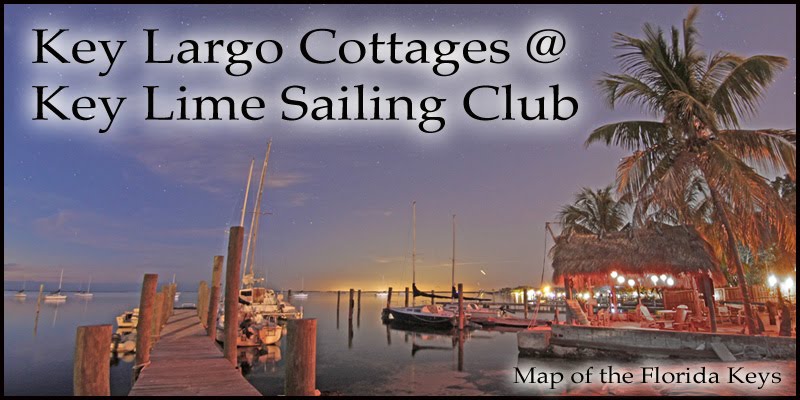 An all included old Keys resort experience!
Your stay includes FREE!
Kayaks, Sunset Sail, Sail Boats, Canoes, Snorkel / Fishing Gear & More!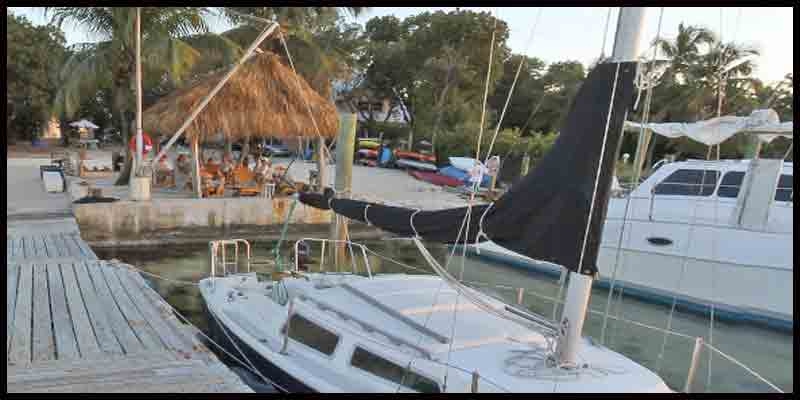 From Tiki Bar -
Flash
/
Quicktime
/
Mobile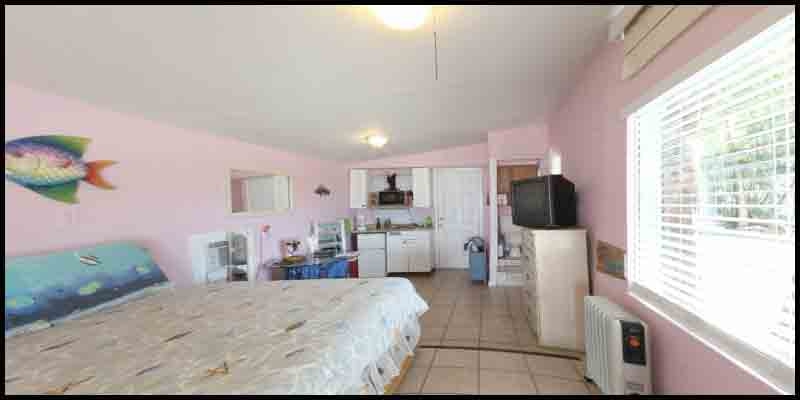 The Beautiful Sailfish Cottage is right in front of the bay and its own attached tiki hut which looks over the water. The tiki shower for 2 is an outside shower completely private has 4 relaxing showerheads. This is a freestanding cottage which sleeps 2; it has a queen size bay view bed, compact refrigerator, range, microwave oven, toaster, coffee maker, cable TV, air conditioning, and all of your towels and linens along with beach towels are provided. This is called the Honeymoon Suite.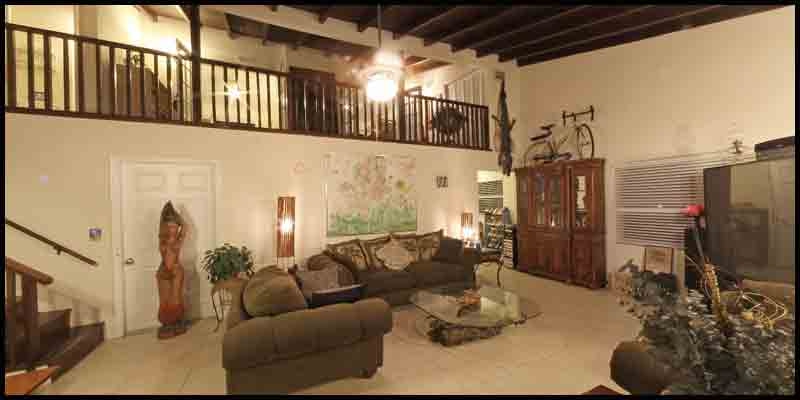 The Main House is a fully furnished 2-bedroom split-level house facing the bay. Features include private patio and barbeque, two dining areas and a large living room. The master bedroom located at the top of the stairs contains 2 Queen sized beds, large closet, and an adjoining bathroom. The second bedroom has a queen and set of bunk beds with large closet. There is also a half bath down stairs. This home can sleep up to 6 adults and 2-4 kids. This house was built in 1970's by women known in the keys as "the 3 sisters" who started Meals on wheels. It has been remodeled, but still has their small library of old books for your enjoyment. The kitchen has full size Refrigerator, 4 burner stove, micro wave and barbeque. It boosts a very nice view of the entire property including the water. If you want some space this is your place.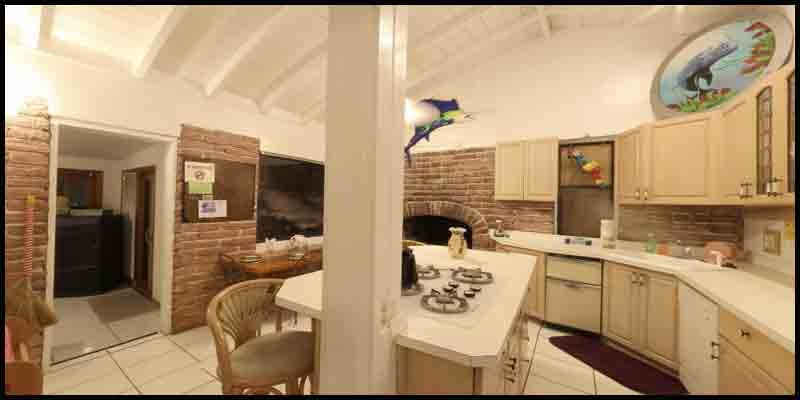 The Owner's Cottage is also right in front of the bay with 2 bedrooms; it can sleep 2 adults and 1 to 3 kids. The main bedroom has a queen size bed; the second bedroom has a queen size loft bed and a twin bed on the ground floor. There's also a full size pullout sofa bed in the living room. The cool kitchen is well equipped and has a dining table for 5. The unit also has air conditioning, cable TV, towels and linens, a private open porch with a gas barbeque grill. This unit also has an awesome full kitchen built with bricks that were hand made on site. If you want to cook, this is your choice. The fireplace was used for cooking and smoking fish, in the 1950 when this cottage was built to last as fishing camp living head quarters. Offered to you with smile, history, warmth and charm; we know you will love it.
Owner's Cottage - Flash / Quicktime / Mobile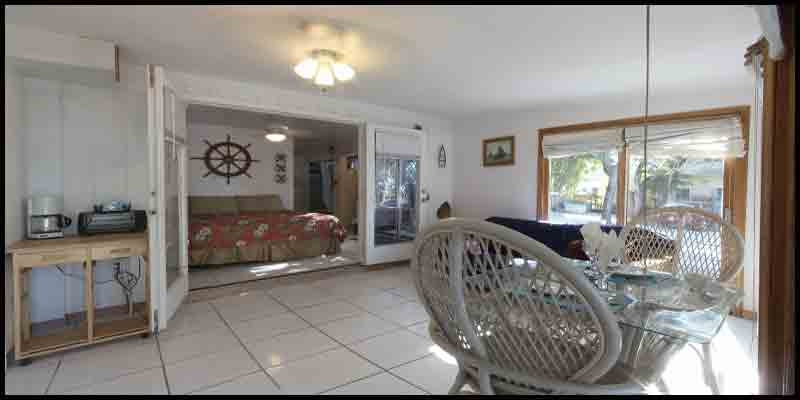 The Captain's Cottage can sleep 2 adults and 2 kids. It is a one-bedroom suite and an enclosed outside tiki shower. It has a king size bed, which faces the water. A futon bed, compact refrigerator, range, microwave oven, toaster, coffee maker, cable TV, A/C unit, and all of your towels and linens including beach towels are included. The additional bedroom has a set of twin size bunk beds. (We charge $15/day extra for the additional bedroom)
This unit is great after a day of sailing, for a restful sleep at night in a big bed when you open your eyes in the morning you see the bay and at night you see the sunset.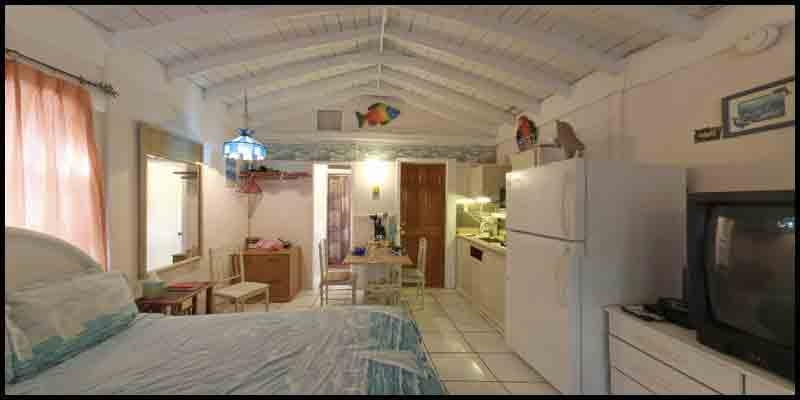 The Dolphin Cottage is a nice freestanding cottage located aft of the Captain's Unit. Although this unit does not face the water it is only about 100 feet to the beach, waterfront tiki hut, sailboats and water toys. It has beautiful screened in patio and can sleep 2 adults and 2 kids. It has a queen size bed, 2 single sleeper sofas and a full size refrigerator, and A/C with a conventional shower. The dolphin unit was also built back in the 1950's as part of the property's original fishing camp and was believed to house up to 14 fishermen at one time and is now tropically decorated for your warm island getaway.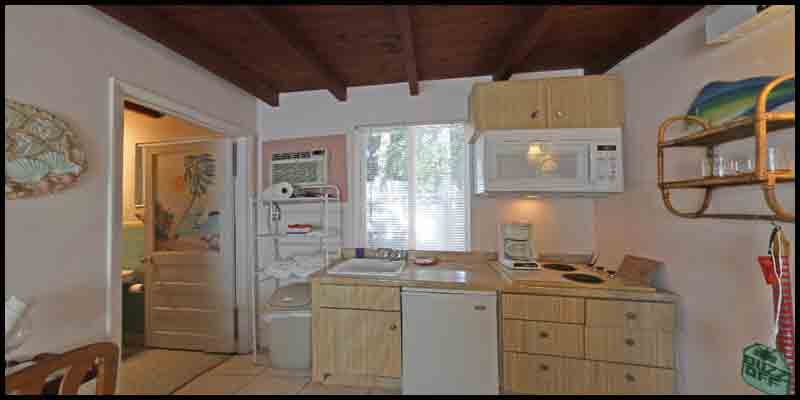 The Hideout has a full size bed and a twin bed, A/C, kitchenette with 3 burner electric stove, full size microwave, small fridge with complete kitchen and dining utensils plus linens and towels which are provided. This cottage can sleep 2 – 3 adults or 2 adults and 1 child. It also has its own BBQ and outside dining area.

The Hideout and the Keys have a connecting door to make a 2 bedroom cottage with 2 kitchens and 2 bathrooms that can sleep 4 adults plus 4 kids with the discounted rate of $370 / $325 / $275 per night This Special Offer is available ONLY if both cottages are booked at the same time.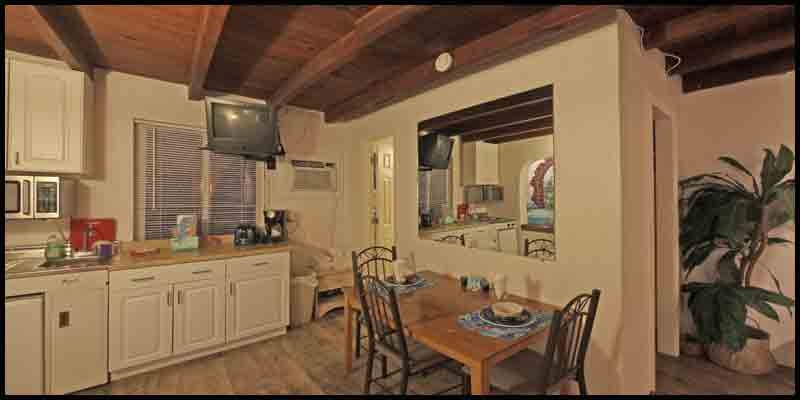 The Keys Cottage has a Spanish Pirate influence, an elevated queen size bed with a mural that surrounds this bed, one single bed, pull-out couch that sleeps 2, A kitchenette with small fridge, complete kitchen and dining utensils, air conditioning, linens and towels are provided. This cottage will sleep 2 adults with 2 to 3 kids.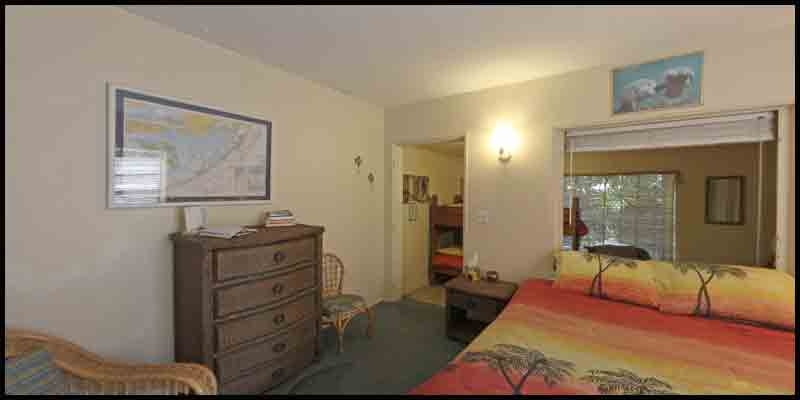 The Manatee Cottage is originally part of the fishing camp triplex back in the 50's, which has now been newly decorated in a tropical theme by the owner with emphasis on manatee and sea life. A king size bed, 1 bunk bed accommodation for two kids in a separate room open to the main room, air conditioning, rattan furniture, apartment size kitchen with a compact refrigerator, 4 burner gas stove and oven, complete kitchen and dining utensils, full size tiled shower, towels, linens and a tropical open setting including umbrella covered picnic table, BBQ grill and hammocks.
The Manatee -
Flash
/
Quicktime
/
Mobile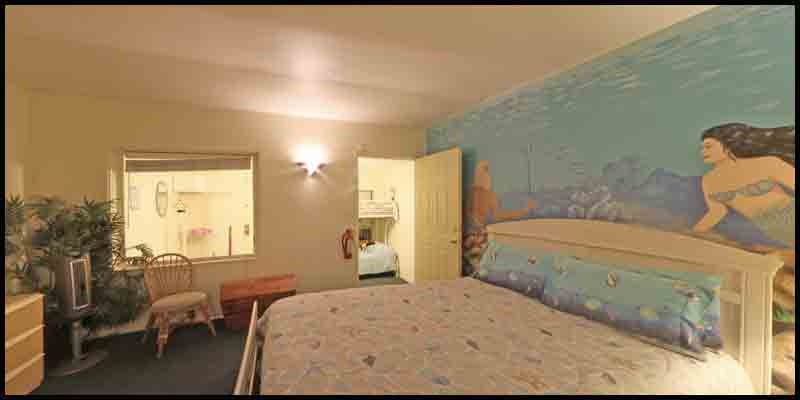 The Mermaid Cottage is located between the jungle room and the manatee at the aft of the property. It has been nicely painted with coral reef and mermaid setting by a well-known Canadian artist. It has air conditioning, a queen size bed, and a bunk bed which can sleep 2 kids; there are kitchen and dining utensil, microwave, 4 burner stove with oven, apartment size refrigerator, towels and linens. It has a large common area with barbeque, picnic table, tropical plant setting and hammock.
Yard -
Flash
/
Quicktime
/
Mobile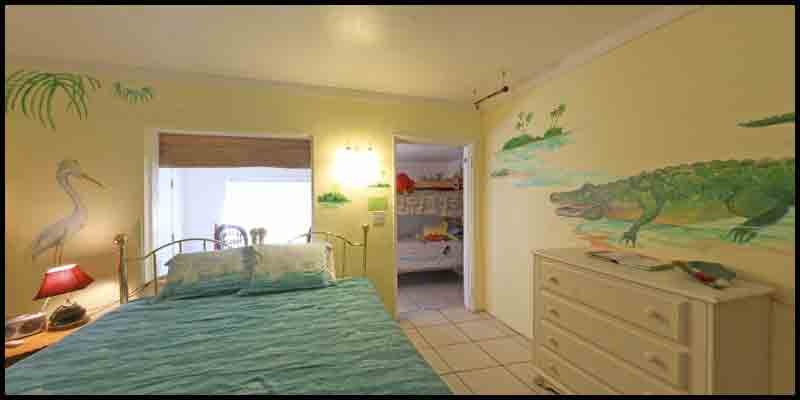 The Jungle cottage was originally part of the fishing camp back in the 50's which now has been decorated and custom painted by local artist who shares the same name as the popular sailboat (Morgan). Our jungle cottage has a king size bed, 1 bunk-bed in a separate room but open to the main room, air conditioning, rattan furniture's, apartment size kitchen with full size refrigerator, 4 burner gas stove and oven, a complete kitchen and dining utensils, full size tiled shower, towels, linens. It also has its own private fenced in yard with a jungle setting, including picnic table, BBQ grill and hammock.
Incredibly reasonable! All cottage rates include use of our dock and sailboats (for qualified sailors!).
It's a great "all-inclusive vacation" deal, as guests have discovered year after year.
Features:
All cottages have air conditioning. Other features vary depending on the cottage. The following are available: king bed, queen bed, twin beds, sofa bed, crib, patio, bay view.
Appliances:
All cottages have alarm clock, CD player, blender, toaster oven, coffee maker , hair dryer, iron , microwave, radio, refrigerator, stove , cable TV , VCR, dishwasher, ceiling fan , gas and charcoal grill, and ice maker.
Our rates vary by season so call or email us for information. Plan ahead! Prime dates are reserved early by returning guests who KNOW what a great vacation deal we offer!
Rates: 5 Nights Minimum Rental (Call or email on availability for 3 to 4 nights in between bookings)
Also if you would like to be notified of any specials please sign up for our Deals/Specials.
Rate starts at:
*Off-Season rate: $140.00 per night plus 12.5% tax.
*Summer Season rate: $200.00 per night plus 12.5% tax.
*Peak Rate (Special Holidays and Events): $225.00 per night plus 12.5% tax.
A one-time cleaning fee of $50.00-$100.00 applies to every rental (depending on cottage size).
| | | | | |
| --- | --- | --- | --- | --- |
| Cottage | Peak /Holiday | Summer Season | Off Season | One-Time Cleaning |
| Sailfish | $235 | $210 | $185 | $50 |
| Captains | $250 | $225 | $200 | $75 |
| Owners | $275 | $250 | $225 | $100 |
| Dolphin | $225 | $200 | $175 | $50 |
| Manatee | $235 | $210 | $185 | $75 |
| Mermaid | $225 | $200 | $175 | $50 |
| Jungle | $235 | $210 | $185 | $75 |
| Main House | $375 | $350 | $300 | $100 |
| Keys Cottage | $235 | $210 | $185 | $75 |
| Hideout Cottage | $225 | $200 | $175 | $50 |
| MONTHS | Dec 15 – Apr 30 | May 1 – Aug 15 | Aug 16- Dec 14 | |
*Off Season: August 16 to December 14, Summer Season: May 1 to Aug 15, Peak Season: December 15 to April 30.
*Holiday Rates for 2015 are:
May 22 – May 25, 2015 (Memorial Day Weekend)
July 3 – July 5, 2015 (Independence Day Weekend)
September 4 – September 7, 2015 (Labor Day Weekend)
October 9-October 12, 2015 (Columbus Day Weekend)
November 11– November 15, 2015 (Veterans Day Weekend)
November 22 – November 29, 2015 (Thanksgiving Week)
December 20 – December 31, 2015 (Christmas Week)
A 5-night minimum reservation is required for holiday bookings.
Rates are per night for double occupancy or family with kids. Extra adults will be charged $15 per night if allowed on a case-by-case basis. We try to limit each of our cottages to 2 adults or 2 adults with up to 5 kids depending on the cottage for the serenity of all our guests. We have a minimum of 5 nights/6 days booking. We accept 2 to 4 night stays if it comes in between 2 bookings. Contact us for availabilities. Adult kids less than 21 years old are free, 21 years old and above will be considered as paying extra adults.
$50 to $100 One time Cleaning Fee depending on the cottage.
We are a pet friendly resort and have reserved two very nice cottages for guests with pets. But in consideration of the next guest, we do a complete remove and replace tear-down cleaning process of the cottage after each guest with a pet. Therefore we ask a onetime cleaning fee of $50 per pet.
All cottages are non-smoking inside. Guests can smoke outside the cottages or at the Tiki Hut.
Our repeat guests will be unaffected in case we increase our rates. They can book with us with the rates that they had during their first stay.
Security Deposit:
A security deposit of $500.00 is required to book/hold your reservation. The deposit will be applied toward the rent at the time of check in with Key Largo Cottages.
Once you booked with us, we will hold the cottage for you and allow 5 to 7 days for us to receive your $500 deposit check which will be payable to:
Key Lime Sailing Club
101425 Overseas Hwy. # 922
Key Largo, FL 33037
We accept personal /cashier's check or money order. In case to case basis, we allow wire transfer and banking info will be sent to your email. Once we receive your deposit we will be sending you a confirmation letter, invoice, and driving direction via email. All remaining balance are due 30 days prior to your arrival.
Note: We now accept credit cards for payments in full on time of reservations or balances due 30 days prior to arrival. There is a $35 credit card handling fee. Credit card numbers are taken over the phone. We accept Visa, Mastercard and American Express.
Sailboat Policy
For your enjoyment and to get the full benefit of an adventurous, rejuvenating, and relaxing vacation, we set our minimum reservation length for 5 nights. However, by popular request we do except shorter stays.
For stays of two or more nights, we assign the 22' sailboats to our guests the morning after check in between 8am & 9am depending on time of year. If guests would like to use their sailboat immediately on day of arrival at 3pm or thereafter, a $100 convenience fee will apply to accommodate this request.
On occasion, we have requests to have a boat assigned prior to the 3pm designated check in. In this situation, we will charge a fee equivalent to one night's current cottage rate. If the cottage is unoccupied and ready, guests will also be able to check in to their cottage early.
The Free Sunset Cruise on the Catamaran
Please note if you are staying less than 5 nights we cannot guarantee a sunset cruise because we are at the mercy of the weather among other things. The sunset cruise takes place once or twice a week. Paul loves to sail and is the owner/captain of this cruise and he does his best to ensure that every guest gets to experience this treat, but at times (very rarely) it may not be available. We let all guests know upon arrival the expected date and time of the Sunset Cruises and if you wish it can be chartered for private excursions day or night. Please chat with our reservation agent to let us know your plans and we will do our very best to make it happen.
Cancellation Policy: (Please read before making a reservation)
Please note we are not a large chain resort/hotel. We simply have a few family run cottages and sailboats that are reserved by new and returning guests months to years in advance. Once we reserve a cottage for you we may have to turn away others that inquire for your same dates. So if you reserve then cancel it is a great hardship on us as we may lose the entire rent for the days you reserved. We have adopted the policies below to be fair for both our great guests and our little piece of paradise called Key Largo Cottages.
Refunds of deposit and payments in full
Cancellation must be received on or before 45th day in the peak season and 30th day during the low season before your check in date.
All cancellations must be sent via email or to our mailing address via US postal service. Once we receive your timely cancellation, your deposit will be refunded within 60 days of the cancellation date less 15% cancellation charge. You must receive our acknowledgment of cancellation via email or US postal service for your reservation to be confirmed canceled and the refund process to be started. It is your responsibility that we receive your cancellation notice.
There will be no refunds for early departures or late check-ins as we will not be able to rerent the cottage on such short notice. Your deposit will be refunded if we receive email cancellation notice 30 days before check-in date.
Deadline for cancellation: 45 days prior to check-in date for regular reservations, more before holidays. If you notified us past the deadline, the whole amount of your reservation will be withheld and refunded only if your unit could be rerented.
Hurricane and/or Tropical Storm Warning situations: Refund would apply or re-schedule your vacation using the same deposit (can only do one time re-schedule.)
Handling Fee: deducted of all refunds. 5% if you accept payment by check.
Photographed & designed by Mark Holdridge www.vrskytour.com 612-386-3998 or email